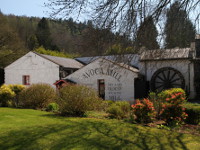 Avoca Mill
East Ireland | County Wicklow
Avoca Handweavers Woollen Mill is located in Avoca Village, on the south east end of County Wicklow (about 10km north west from town of Arklow). It is the oldest working woollen mill and one of the oldest surviving businesses in Ireland, established in 1723. The mill was built on the banks of the Avoca River and used for grinding corn, and also for spinning and weaving wool, to provide food and fabrics for miners working in the nearby copper mines.
The real success and revolution began in the 20's of the 19th Century, when the mill was inherited by the three sisters, the Wynnes. By introducing colour to their fabrics, they have turned small local business into company, which exports their goods to all over the world and meets the highest standards of quality. Woven fabrics of Avoca were used by famous fashion designers as Elsa Schiaparelli, and even reached the British Royal Court, the waistcoat for King George VI and baby blankets for the children of Queen Elizabeth II were made of it. By the end of their lives 1960's, the Wynnes sisters were developing the company and were firmly engaged in the local social life.
In 1974, already declining Avoca Handweavers has been bought by Donald Pratt, a solicitor engaged to handle the sale of the mill after the death of Wynnes sisters. Together with his wife, Hilary, by hard work and commitment, they have led the declining company back to successful business. Already the second generation of Pratts successfully manages and develops the business, and now it is not only the famous fabrics and fashion, they are also renown for excellent food and strong involvement in gardening. Now, Avoca is a brand for a number of stores, restaurants and cafes, some of which are situated in such famous places as Powerscourt House and Gardens or Mount Usher Gardens, and some are located as far as Belfast or Moll's Gap on the Ring of Kerry. Their organic grown gardens in Kilmacanogue provide fresh vegetables, salads, herbs and fruit, which you can try in Mill Cafe. There is also shop with their products and a free Visitor Centre. The tour through the working weaving mill enables to see the whole process, still done in the traditional way.
OPENING HOURS :

Summer opening :

Shop: 9.00am - 6.00pm
Café: 9.30am - 5.30pm

Winter opening :

Shop 9.30am - 5.30pm
Café: 9.30am - 5.00pm

THE MILL TOUR :
TELEPHONE :
CAR PARK :
Photos from Avoca Mill