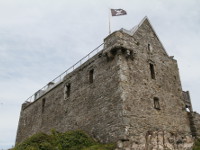 Baltimore Castle
Southwest Ireland | County Cork
Baltimore Castle (Dún na Séad) was built in 1215 by an Anglo-Norman Sleynie, a descendant of Robert FitzStephen "The Conquistador" (one of the first Normans who arrived with Richard de Clare - known as "Strongbow", to settle Ireland). In 1261, after the battle of Callan, the Irish clan of O'Driscolls took over the Dún na Séad castle and their former lands around Baltimore. It became the chief residence of the O'Driscoll clan for almost 400 years and was the centre of administration for their trading and piratical activities.
In 1631 there took a place an incident called "Sack of Baltimore" (the biggest single attack by the Barbary pirates on Ireland or Britain). Algerian pirates attacked the village of Baltimore and captured 107 captives to slavery in North Africa. In the aftermath of the raid the surviving villagers moved to the inland (mostly to Skibbereen) and Baltimore was virtually abandoned for next generations. It was the end of the reign O'Driscoll as overlords of these lands.
In 1649 castle became a garrison for Oliver Cromwell's soliders and declined into a state of ruin after the departure of troops. In 1997 the present owners of the castle (Patrick and Bernie McCarthy) began renovation, which completed in 2005, restored the castle to its former glory.
The original battlements were retained and now afford a panoramic view over the harbour of Baltimore. The great hall contains its original two fireplaces, original dressed sandstone windows, antique furnishings and tapestries. Located there the exhibition with its props, shows the turbulent history of the castle and Baltimore's piratical activity, including "Sack of Baltimore".
OPENING HOURS :

1st April to 30th September
Everyday : 11.00 - 18.00

ADMISSION FEES :
CONTACT :
Photos from Baltimore Castle