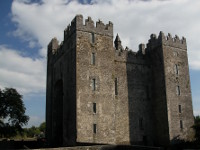 Bunratty Castle and Folk Park
West Ireland | County Clare
Bunratty Castle and Folk Park are located in village of Bunratty (approx. 15 km from Limerick City in Shannon direction) in County Clare. It's one of the most popular and worth visiting tourist attractions in Ireland. Covering an area of 26 acre park includes a medieval castle - Bunratty Castle, 19th century Georgian residence - Bunratty House, 19th century urban buildings - Village Street and open air museum of 19th century rural Ireland.
Bunratty Castle is one of the most complete and authentic medieval castles in Ireland, which has impressive collection of furniture, utensils, artworks and weapons. It was built around 1425 by the MacNamara family but at around 1500, Bunratty Castle came into the hands of the O'Briens (or O'Brians), the most powerful clan in Munster and later Earls of Thomond. In 1712, Henry, the 8th and last Earl of Thomond sold castle and 472 acres of land to Thomas Amory, who after 8 years sold the castle to Thomas Studdert. The Studdert family resided in the castle until 1804, when they moved to newly built, much more comfortable and modern "Bunratty House", allowing the castle to fall into disrepair. In 1954 7th Viscount Gort purchased the castle and with help of Open Public Works, the Irish Tourist Board and Shannon Development he restored Bunratty Castle to its former glory. The castle was opened to the public in early 60's and since that time offers its famous medieval banquets (booking required). Buntratty Castle is noted for the towering arched recess of its doorway. The main block has three floors, each consisting of a single great room, or hall. There are four towers placed in corners of the stronghold, each tower has six floors.
The Folk Park it's open air museum which consists rural houses from over a century ago. Each household includes furniture and everyday life items which reflects living conditions from that period. You can experience the lifestyle of the poorest subsistence farmers to that of the gentry classes. In addition to residential building and farmsteads you will also find the blacksmith forge, horizontal mill, vertical mill and church.
The Village Street it's collection of typical 19th century urban Irish buildings including school, doctor's house, potter's workshop, drapery, grocery, print workshop, hardware shop, photographer's studio, post office and pub.
Bunratty House it's a late Georgian residence with walled garden and the stable yard form 1804 . It was home to the Struddart Family, descendants of the O'Brien's who lived in Bunratty Castle. The stable yard is now home for Tallbot Collection which consists 19th century agricultural machinery and implements.
OPENING HOURS :

Daily: 9am - 17:30pm
(Closed Dec 24th, 25th & 26th)
Last Admission to Castle: 16:00pm
Last Admission to Folk Park: 16:15pm

ADMISSION FEES :

Adult: 15.00€
Child: 9.00€
Family Ticket (2 Adult + 2 Children): 33.60€
Family Ticket (2 Adult + 6 Children): 38.00€

CAR PARK :
Photos from Bunratty Castle and Folk Park