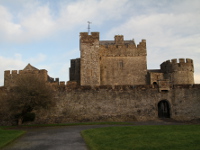 Cahir Castle
Midlands Ireland | County Tipperary
Cahir Castle (Irish: Caisleán na Cathrach) is a medieval stronghold, situated on small, rocky island, on the bend of the River Suir, in town or Cahir, County Tipperary. The earliest castle on this site was built by the Anglo-Norman, Philip of Worcester, in the 13th century (once, there was a stone fortress of powerful irish clan, O'Briens, who were banished when the Normans arrived). The fortress has been enlarged and modernized throughout the 15th and 16th centuries, when passed into the possession of the Butlers. The Butler Family sided with the Roman Catholic Irish in the Elizabethan wars, in consequence of which the castle was besieged and taken by the army of the Earl of Essex, in 1599 (one of the cannon balls from this battle is preserved in the wall of the northeast tower), and for a one year the castle was put under the charge of Sir Charles Blount. In 1650, the fortress was surrendered to Oliver Cromwell, without a shot even being fired. The Butlers regain the possession of the castle in 1652. In late18th century stronghold fell into decay. However some conservation work have been done in 1840's, the real restoration was launched after 1961, when the last Lord Cahir died and the castle reverted to the Irish state and named a National Monument. Now, Cahir Castle is managed by the Office of Public Works and it is one of the bigest and best preserved castles in Ireland.
The castle consists of three courtyards, an outer, middle and inner with the core buildings inside. The oldest complete structure and the main building is the three-storey tower house. Access to the inner court is protected by lifting iron gate with two machicolations above (machicolation is a type of porch supported on corbels, protruding from the face of the outer wall, with holes, through which stones, or other objects, could be dropped on attackers). Also within the inner courtyard there is restored Great Hall and two towers located in northern corners.
There is an audio-visual show which gives information about the Cahir Castle and its history.
OPENING HOURS :

Mid October - February:
March - Mid June:
Mid June - August:
September - Mid October:

ADMISSION FEES :

Adult: 4€
Child/Student: 2€
Senior/Group: 3€
Family: 10€

CONTACT :
CAR PARK :
Photos from Cahir Castle