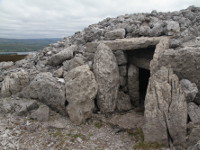 Carrowkeel Passage Tomb Cemetery
Northwest Ireland | County Sligo
Carrowkeel Passage Tomb Cemetery are group of Neolithic monuments (built before 3200 B.C and continued to be used for burial rituals into the Bronze Age), spectacularly situated on the tops of Bricklieve Mountains in County Sligo (30 km southeast of Sligo Town). Traveling through N4 in Dublin direction, take a right turn in the village of Castlebaldwin (signposted to Carrowkeel) and proceed around 4 km, tombs are visible on mountaintops. There are about 14 cairns scattered on the hilltops overlooking Lough Arrow. There are also remains of round enclosures located on plateau on the east (probably ones inhabited by the people who built tombs). The four most visited and easy accessible cairns are numbered G,H K and L.
Cairn G is the first on way from the carpark. It is 7 m high and has 21 m in diameter at its base. Interior consists a short passage leading to a central chamber with three small, side chambers around, what all together creates cruciform shape. There are eight orthostats and the corbelled ceiling. The unique feature is the roof-box entrance, similar to the Newgrange. In the summer solstice, the beams of the rising sun pass through the passage and illuminate the interior.
Cairn H is located is about 75 metres south. Unfortunately is ruined and not accessible. Both, the passage and the chamber are collapsed (roof caved down into the chamber). It's the only one cairn in Carrowkeel complex, with a double row of kerb stones. Cairn K is located approx 100 meters south of Cairn H and is highest situated. The 7 meters long passage leads to main chamber (with corbelled roof), which has three smaller, satellite chambers forming together a cruciform layout.
Just few meters east of Cairn K there is the rectangular stone cist, which probably had been used for rituals of body preparing. To the west of Cairn K there are ruins of Cairn L, where is no visible remains of a passage or chamber. It is the only one tomb, which wasn't excavated.
Around 500m to the east, on the top of Doonaveeragh Mountain are situated Cairn O and P (it is much harder to get there; there is no visible path and some climbing required). On the plateau below the Doonaveeragh Mountain there are some remains of ancient village.
Around 300 m left from Cairn K, on the west side of next hill (known as Carn Mor) are located Cairns E and F (a little bit more difficult to access). Cairn E is the only one example of court tomb in Carrowkeel megalithic complex. Is oval in shape, with approx dimensions: 11 m wide and 37 m long. It had open court with direct entrance to the cruciform chamber, which was roofed and covered by cairn, unfortunately the roof has collapsed and filled almost whole chamber. Going 200 m south, you will get to largest tomb of Carrowkeel, Cairn F (diameter of 26 m), which has the double cruciform chamber with a quartz standing stone in the middle. Unfortunately, you won't see the inside because tomb collapsed and is not accessible.
Looking to the north-west, you'll see Cairn B, situated on the other side Carrowkeel's valley, on the ridge of Treanscrabbagh. Although it is quite difficult to reach this cairn, but it is worth to climb there becouse Cairn B is the one of the best preserved cairns on Carrowkeel and has remains of megalithic art inside the chamber.
Carrowkeel megalithic tombs were excavated in 1911 and revealed large number of human bones (many of the chambers were filled of cremated bones to a depth of more than 7cm). Artefacts found included Carrowkeel ware, bone pins and pendants, stone balls and two intact Bronze Age vessels.
OPENING HOURS AND TICKETS :
CAR PARK :
Photos from Carrowkeel Passage Tomb Cemetery