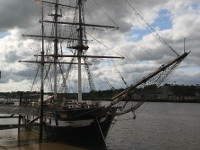 Dunbrody Famine Ship
Southeast Ireland | County Wexford
Dunbrody Famine Ship is replica of 19th century cargo vessel located in the center of New Ross in County Wexford. This kind of ships, (also known as "Coffin Ships") were used to transport people to North America and Australia during Great Famine times. The original Dunbrody was built in 1845, in Quebec (Canada), by an Irish emigrant shipbuilder, Thomas Hamilton Oliver for William Graves & Son, New Ross (Ireland) located shipping company. Dunbrody traveled between Quebec and New Ross and was able to carry out over 300 people. On its return way, the vessel was loaded with timber, cotton and guano.
Dunbrody Visitor Center with guided tour on the board of Famine Ship tells the history of the people who experienced this Atlantic journey and fully describes their harsh travel conditions as also and provides many information about Great Famine in Ireland and directions of emigration in that time.
Replica of the three-masted cargo vessel Dunbrody was built in New Ross in 2001 and since that time attracts many tourists and became one of the most important historical attractions of County Wexford.
OPENING HOURS :

Apr– Sep :

Daily: 9am - 6pm
First tour 9:45am
Last tour 5pm

Oct – Mar :

Daily: 9am - 5pm
First tour 10am
Last tour 4pm

TICKET PRICES :

Adult : €8.5
Senior : €7
Child/Student : €5
Family : €20-25

CONTACT :
CAR PARK :
Photos from Dunbrody Famine Ship