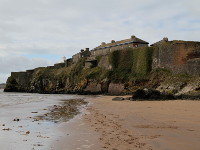 Duncannon Fort
Southeast Ireland | County Wexford
Duncannon Fort is located in Duncannon Village on Hook Peninsula in southwest part of County Wexford. Was established in 1588 to protect coast from the Spanish Armada and to stop the pirates attacking trade ships floating to Waterford Harbour. The Fort is surrounded by a 9m (30 ft) high dry moat and all the major buildings are located around a parade ground.
The place has a long history of battles, sieges, fires and plague. Always was a strategic importance military base starting at the Irish Confederate Wars (1641-1652) through the times of the Rebellion of 1798, strengthened in the 19th century in fear of possible attacks by Napoleon as a military barracks and training facility was used and redeveloped until the times of World War II.
Duncannon Fort is now home for Maritime Museum and Great War Trench Experience which with its artifacts shows the life of soldiers in the trenches of World War I. Another of the onsite attractions is located on the lowest level of the fort, with the entrance from the dry moat, the Croppy Boy Cell which after the Rebellion of 1798 was used as a temporary prison for detained rebels. Stroll through the outer ramparts the gives spectacular view extending across the estuary to Waterford Harbour and down to Hook Head.
Duncannon Fort hosts a Military re-enactment every June Bank holiday weekend. This annual event consists of veteran military vehicles show and reconstructions of historical battles from different periods in Irish and world history.
OPENING HOURS :

1 May – 30 Sept, daily: 10am – 5.30pm
(Saturdays closed)
Rest of the year, daily: 10am – 4.30pm
(Saturdays closed)

ADMISSION FEES :

Adult: 5€
Children, Seniors: 3€
Family Groups: 12€

CAR PARK :
Photos from Duncannon Fort