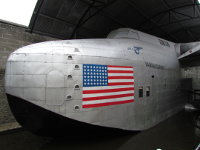 Foynes Flying Boat Museum
West Ireland | County Limerick
Foynes Flying Boat and Maritime Museum is located on southern bank of the Shannon River estuary, in important harbour village of Foynes, in County Limerick. Museum brings to the times when Foynes become the centre of the aviation world between 1939 and 1945 (in this period, many famous politicians, businessmen and movie stars passed through Foynes). On 9 July 1939, Pan Am's luxury flying boat, called "Yankee Clipper" landed in Foynes and it was the first commercial, transatlantic, passenger flight, from the USA to Europe.
The museum, housed in the original old terminal building, has many interesting exhibits, artefacts and illustrations, but without a doubt, its greatest attraction is the only Boeing B314 Flying Boat full scale-replica in the world, which you can also experience on flight simulator. In Radio and Weather Room you will see original, still in working condition transmitters, receivers, Morse code and weather equipment. The cinema features , the award winning, 17 min film, "Atlantic Conquest", which is made from original 1940's footage.
The Maritime Museum is related to Foynes as important sea port established in 1837. Exhibition includes Paddle steamer cabin, display of boats, large scale model of Shannon River estuary from Limerick to Loop Head. You will also learn about imported and exported goods as well as about working conditions in docks. From restored control tower you can admire the views of village, port and mouth of Shannon.
Irish Coffee Centre tells the story, how invented by Joe Sheridan in 1943 (in Foynes), the Irish Coffee reached the world wide audience. There is no better place to try it and to learn how to make it.
OPENING HOURS :

Mar 14 - May 31:
June 1 - Sep 30:
Oct 1 - Nov 14:

ADMISSION FEES :

Adult: 11€
Senior/Student: 9€
Child under 14: 6€
Child under 5: Free
Family: 28€
(2 adults and up to 4 children)

CONTACT :
CAR PARK :
Photos from Foynes Flying Boat Museum