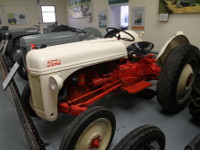 Irish Agricultural Museum
Southeast Ireland | County Wexford
Irish Agricultural Museum is situated in old farm buildings of Johnstown Castle, in County Wexford. Its one of the most comprehensive exhibitions of rural life and farming in Ireland. The wide range of artefacts includes impressive collection of rural transport and farm machinery as also tools related with gardening and landscaping. You can see complete workshops of the blacksmith, cooper, wheelwright, shoemaker, harness maker and basket maker. Museum also boasts its great collection on Irish country furniture, with over 100 exhibits dating from between 19th century to 1950's.
The Great Famine exhibition describes how hard was life before, during and after the famine in Ireland, directions of emigration and harsh conditions during the journey across the Atlantic.
The Peacock Tea Room, next to the museum's entrance, offers range of delicious refreshments including light lunches and selection of coffe and cakes.
OPENING HOURS :

MARCH - OCTOBER :

Mon - Fri: 9am - 5.30pm
(Jun, Jul, Aug to 6.30pm)
Sat, Sun and Bank Holidays: 11am - 5pm
(Jun, Jul, Aug to 6.30pm)

NOVEMBER - FEBRUARY :

Mon - Fri: 9am - 4pm
Sat, Sun and Bank Holidays: 11am - 4pm
(24-26 Dec closed)

TICKET PRICES :

Adult : 8€
Group/OAP : 6€
Child/Student : 4€
Family : 24€

CAR PARK :
Photos from Irish Agricultural Museum