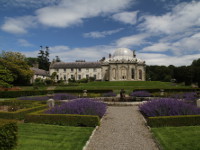 Killruddery Gardens
East Ireland | County Wicklow
Killruddery Gardens, Bray, county Wicklow - one of the earliest and most extensive formal gardens , kept in the original style from 17th century to present times. The property belongs to the Brabazon family, who hold the title of "Earls of Meath". Gardens was created by 3rd Earl of Meath - William Barazon and his work was continued by 6th Earl of Meath - Chaworth Brabazon. The formal garden was laid out by French gardener Bonet in the 1680s. The Killruddery Estate contains renowned Elizabethan style mansion from 1820 (Killruderry House) with 187m long canals on the side and splendid Orangery added to the house in 1852, which together with the garden creates masterpiece of architecture and landscaping.
One of the most interesting parts of the garden is the only one in Ireland Sylvan Theatre (outdoor theater) with ornamental gate, surrounded by a hedge.
The next place you can't miss it's "Beech Hedge Pond" - the circular granite edges, covered with water lilies large pond (20 m in diameter) containing four Victorian figures represent the four seasons of the year. Pond is bordered by a high beech hedge, which is already damaged a little by time, but still impressive.
Take a walk to the place called "The Angles" - area of tall yew hedgerows set out in a symetric pattern of alleys and triangular glades
The Walled Garden built of red brick around 1830 contains: vegetable garden (which provides fresh vegetables, salads, herbs and fruits for local Tearoom), picnic area and some pens with farm animals and birds.
Some scenes for TV series and movies such as My Left Foot, Far & Away, Angela's Ashes, The Tudors and Camelot were filmed in Kilruddery Gardens.
OPENING HOURS :

April - Weekends only, 9.30am - 6pm
May to Sept - Daily, 9.30am - 6pm
Oct - Weekends only, 9.30am - 6pm
Late opening on Thursdays, Weekends only, 9.30am - 10pm
Farm Market, every Saturday, 10am - 4pm

ADMISSION FEES :

Adult: 11€
Child (3-12 years): 3€
Family: 22€
Group: 9€/person

CAR PARK :
Photos from Killruddery Gardens