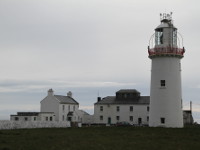 Loop Head Lighthouse
West Ireland | County Clare
Loop Head Lighthouse is situated on a pointed tip of the picturesque Loop Head peninsula, on the south west end of County Clare (its most westerly point). The first lighthouse was established here around 1670, it was stone cottage with lantern placed on the roof. The cottage was home for the keeper and his family and had an internal stone stairway leading up to a platform on the roof where a coal burning brazier or chauffer was positioned (remains of the old cottage can still be seen near the lightkeepers dwellings).
As it was a strong demand for lighthouse at the mouth of the Shannon estuary, the cottage lantern was replaced by a more conventional lighthouse in 1802. The tower was about the same height as the present tower is, and had twelve-foot diameter lantern contained twelve oil lamps, each with its own concave parabolic reflector. Despite the fact that the number of lamps and reflectors was increased to 15 in 1825, the lighthouse still was considered as not sufficient and it was suggested to build a new one.
In 1854, the construction of a new lighthouse (present to this day) was completed, and the old tower was demolished as not to obstruct the light. The optic was a first order (920mm focal distance) dioptric lens with an oil lamp in its focus giving a fixed (non-flashing) light. Since then, the optic and the source of light were modernizing several times to improve quality of service. In 1898, the fog signal was established, and in 1955 a radiobeacon transmitting its morse signal every two minutes during fog conditions. The lighthouse was converted to electric in 1971, and in 1991 the was transformed to automatic operation. The Loop Head Lighthouse is 23m high, and its current range is 23 nautical miles (42km or 26,5 miles).
The Lighthouse was opened to the public in June 2011, and since then attracts more and more tourists. An exhibition, placed in keepers dwellings provides a history of the Loop Head Lighthouse and shows its progress through the years. Visitors can take a guided tour up the lighthouse tower and have a look from the balcony. There is also the possibility of accommodation in one of the keeper's houses.
OPENING HOURS :

3rd April - 2nd October :

TICKET PRICES :

Adult: €5
Child: €2
Family: €12

CAR PARK :
Photos from Loop Head Lighthouse