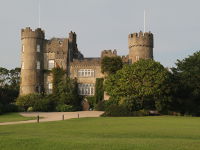 Malahide Castle and Gardens
East Ireland | County Dublin
Malahide Castle and Gardens are located just 15 km north east from Dublin city center and are easily accessible by public transport. The castle and surrounding parklands cover area of over 260 acre and contain one of the most beautiful gardens in Ireland. Whole demesne belonged to Talbot family for nearly 800 years until 1976, when was bought by the State.
Malahide Castle was built as single tower-house by Richard Talbot, knight of Henry II, in 12th century after Norman conquest of Ireland. Over the centuries, the Talbots expanded and modernized the medieval stronghold. Among many interesting attractions of the castle you will find the Oak Room finished with 16th century oak panelling, Gothic Great Hall as also fully furnished Main Bedroom, Childrens, Bedroom and Ladies Bedroom with exhibits dating between 18th and beginning of 20th century. The guided shows the most interesting rooms, and tells the history of the castle and Talbot family.
The parklands, with many mature beautiful trees were landscaped in 18th century, and the Talbot Botanic Gardens were created by 7th Baron Talbot of Malahide, Lord Milo John Reginald Talbot, who was keen gardener. The 1.6 ha Walled Garden with many beautifully made greenhouses, include a lot of interesting and rare species, especially Australasian and Chilean plants.
Malahide Castle, with its magnificent gardens and parklands is a wonderful place for a day trip. You can get there by DART (commuter train) or by Dublin Bus, route No. 42 from Talbot Street in Dublin city center.
OPENING HOURS :

CASTLE & GARDENS

Daily: 9.30am - 5.30pm
(Last Tour 4.30pm)
24th,25th,26th Dec: closed

PARKLANDS

Feb&Mar, Daily: 9am - 6pm
Apr, Daily: 9am - 8pm
May-Aug, Daily: 9am – 9pm
Sep, Daily: 9am – 8pm
Oct, Daily: 9am – 7pm
Nov-Jan, Daily: 9am - 5pm

TICKET PRICES :

CASTLE AND GARDENS :

Adult : €12
Student : €8
Senior : €7.5
Child : €6
Family : from €26

PARKLANDS :

CONTACT :
CAR PARK :
Photos from Malahide Castle and Gardens