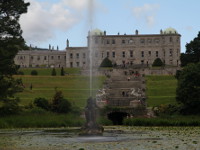 Powerscourt House and Gardens
East Ireland | County Wicklow
Powerscourt Estate is located just off the Enniskerry Village in County Wicklow, only about 20 km from Dublin City Center. You will find there magnificent neoclassical mansion, beautifully landscaped gardens and the highest waterfall in Ireland. Powerscourt House was built in 1741 by the Richard Wingfield - 1st Viscount Powerscourt . This Palladian mansion was designed by the German-born architect Richard Cassels who also designed Russborough House and took part in the design of the Houses of Parliament in Dublin. In 1961, the estate which at that time was in terrible condition, was sold by the 9th Viscount, Mervyn Patrick Wingfield, to the Slazenger family. Restoration took over 20 years and was finished in 1974, but unfortunately the day before reopening a fire broke out, destroying the building. In 1996 the house was re-roofed but most of the house is still not restored and only few rooms have been completed and open to the public, despite this the house is still very impresive and worth to visit. The Powerscourt House was recently included in the Top Ten Houses in the World list by Lonely Planet.
Powerscourt Gardens were laid out in 18th century but were radically redesigned in Victorian style by eccentric landscaper Daniel Robertson in 19th century (he liked to be carried around the garden in wheelbarrow with bottle of sherry in his hand). Despite the unusual methods of its work the final result was extremely good. The Italian Garden includes sweeping terraces, lawns, antique sculptures, circular pond and fountain flanked by winged horses. There are also Japanese Gardens created by 8th Viscount Powerscourt in 1908, Pet's Cemetery (one of the biggest in Ireland) and Walled Gardens. With over 200 varieties of trees (some very old and rare), shrubs and flowers, this 47 acres of gardens has something for everyone.
Powerscourt Waterfall is located about 5 km from the house. It has 121m (398 ft) and is highest in Ireland. Surrounded by Beech, Oak, Larch and Pine trees is an great location for summer picnics and barbecues.
Photos from Powerscourt House and Gardens