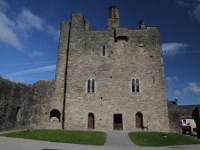 Roscrea Castle
Midlands Ireland | County Tipperary
The medieval castle in Roscrea was built in 1280s, when the silver was discovered in nearby Silvermine Mountains. Due to proximity to the mines it became stronghold of great strategic importance. The Castle consists of massive gatehouse with drawbridge and large walled enclosure. The basement is housed a prison, and spiral stairs leads us to the first and second floors where the main rooms are. There are also several passages and small rooms for soldiers and staff.
The Damer House, which dates from around 1720, is situated inside the castle yard. It is fine example of pre-Palladian architecture, the Queen Anne style. It has original, carved timber staircase, and one of its rooms is fully furnished in period style. Just outside the medieval walls, there is located, small, well maintained formal garden.
In town of Roscrea you will also find the round tower, high cross and remains of 12th century Romanesque church.
OPENING HOURS :

2nd April - 23rd September:

ADMISSION FEES :

Adult: 4€
Child/Student: 2€
Senior/Group: 3€
Family: 10€

CONTACT :
CAR PARK :
Photos from Roscrea Castle