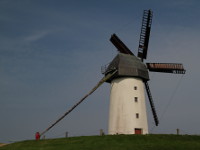 Skerries Mills
East Ireland | County Dublin
The Mill complex in picturesque fishing village of Skerries (35 km north of Dublin), is fine example of Irish industrial heritage. It's quite unique in that it comprises a watermill and two windmills in one location. Milling tradition in Skerries dates back to the 12th century, when harassed by the Vikings raids, monks of Augustinian Order moved here from the island of Inishpatick.
After dissolution of monasteries in 16th century the monastery of Holmpatrick, with its mill and lands became the private property but milling continues to 1930's. The oldest building in complex is the 17th century watermill with associated mill races, pond and wetlands. The small, 4-sail windmill was built in 18th century, and bigger 5-sail windmill in 19th century. A bakery was established on the site by 1840 and worked until 1986, when was destroyed by fire.
In 1999, all three mills and bakery have been restored to working order and are open for the public whole the year round. The guided tour explains the principles of operation of the mills and milling equipment as mill stones, elevators, shakers, blowers and winnowers. You will also learn how hard and dangerous working environment it was.
Skerries Mills are easily accessible from Dublin, by public transport. You can get there by DART (commuter train) or by Dublin Bus, route No. 33 from Lower Abbey Steet in Dublin city center.
OPENING HOURS :

1st April to 31th September :

Daily: 10am - 5.30pm
(Last Tour 4.30pm)

1st October to 31st March :

Daily: 10am - 4.30pm
(Last Tour 3.30pm)
24th–27th, 31st Dec and 1st Jan - closed

TICKET PRICES :

Adult : 6€
Senior/Student : 4.80€
Child : 3.50€
Family(2+4) : 12.50€
Group : on request

CONTACT :
CAR PARK :
Photos from Skerries Mills