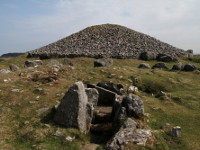 The Loughcrew Passage Tombs
East Ireland | County Meath
Loughcrew Passage Tombs also known as Sliabh na Caillí (Hill of the Witch) are complex of megalithic monuments located about 4km south east from town of Oldcastle in County Meath. This ancient burial grounds, dating between 3500 BC and 3300 BC are spread over few hills. "Cairn L", "Cairn D" and some smaller cairns are situated on the hill of Carnbane West, of which landlords do not allow trespassing to their lands. Thankfully, the hill of Carnbane East is fully accessible for tourists, and has well marked path, leading from carpark to the summit. The key to "Cairn T"(deposit €50) you can get from coffe shop, at the entrance to Loughcrew Historic Gardens and House.
At the top of the hill, the large "Cairn T" (also called "The Hag's Cairn") dominates a group of six smaller, ruined tombs. The alignment (the same alignment like the eastern tomb of Knowth) and its inside decorations indicate that the Cairn had a clear astronomical purpose. On the spring and autumnal equinox, the beams of the rising sun pass through the passage and illuminate the artworks on backstone (carved with astrological emblems as sun and moon) of the small back chamber. "Cairn T" is a large, circular mound (35 m in diameter), surrounded by huge kerbstones, which served as retaining walls, and largest two flanked the entrance. There is a long and narrow passage with carved stones on the sides, which leads into the main, domed chamber with three small, side chambers around. The domed roof was built by placing the huge, flat stones that form the chamber walls. Each round of corbels laid horizontally around the perimeter of the chamber was placed a little closer to the center, so that the diameter of the hole to be covered got smaller as the roof got higher. The space left at top was closed with huge capstone and corbelled roof was covered with stones. Each of the three side chambers has a own, smaller corbelled dome. In the one of this small cells the pieces of charcoal, human teeth and bones were found. The bronze pin with ornamented head (approx 6cm long) was found along lose stones at the bottom of central chamber.
Unfortunately, the domed roofs of the six smaller cairns (signed as S, U, V, W, R1 and R2) situated around "Cairn T" disintegrated completely, only some kerbstones and chambers have survived. On the walls of the some of preserved chambers are still visible some astrological emblems and other ornamental patterns. During the excavation of the "Cairn R2" some artifacts such as bone pins, stone pendants, fragments of clay vessels, a white flint arrowhead and miniature stone axehead were found.
About 100 m from the carpark there is traditional thatched Irish cottage, which is memorial reminding the tragedy of Great Famine. There is also coffee shop and additional carspace.
OPENING HOURS AND TICKETS :
CAR PARK :
Photos from The Loughcrew Passage Tombs