Welcome to directionireland.com!
Our website is an online travel guide to Ireland. Website is still under construction, but you can already find some interesting travel destinations. It provides essential information about places of interest, photos, opening hours and ticket prices. Every object is marked on the map, what makes it easy to locate. Our search options let you browse and sort objects by categories and regions.
Recommended travel destinations: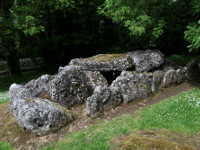 Lough Gur Wedge Tomb
West Ireland | County Limerick
Lough Gur Wedge Tomb (also known as Giant's Grave) is located just 1 km off the road R 512 (Limerick-Kilmallock), near village of Holycross in County Limerick (in Holycross take the left turn onto the road signposted to Lough Gur, just after the pub). After about a 1 km you will see the grave on your right hand side.
This is well preserved, large... more info and photos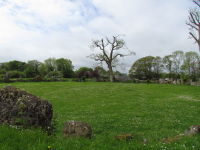 Grange Stone Circle
West Ireland | County Limerick
Grange Stone Circle (also known as The Lios) is located beside the road R 512 (Limerick-Kilmallock), 4 km north of Bruff in county Limerick. It is largest stone circle in Ireland, which consists of 113 stones and has 46 m in diameter. It's surrounded by wide earthen, flat-topped bank, about 1.2m tall. There is narrow, stone-lined entrance on the north ea... more info and photos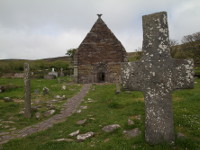 Kilmalkedar Church
Southwest Ireland | County Kerry
Kilmalkedar Church (Cill Maolcheadair) is located 8 km to the northwest of the town of Dingle (road R559), on the Dingle Peninsula in County Kerry. This twelve-century Romanesque church was built on the site of an early-Christian monastic settlement from the 7th century, founded by St. Malkedar - grandson of the King of Ulster. The church consists of the nav... more info and photos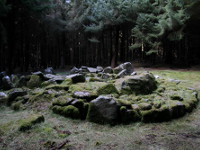 Ballyedmonduff Wedge Tomb
East Ireland | County Dublin
Ballyedmonduff Wedge Tomb is located on the south eastern slope of Two Rock Mountain in County Dublin, just 18 km from Dublin City Center (beside Glencullen Golf Club). This early Bronze Age wedge tomb is also known as "Giants Grave" and was discovered by Alderman Blacker around 1830. Tomb was excavated in 1945, but unfortunately, by this time, the main c... more info and photos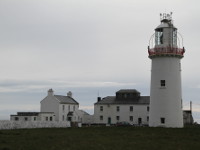 Loop Head Lighthouse
West Ireland | County Clare
Loop Head Lighthouse is situated on a pointed tip of the picturesque Loop Head peninsula, on the south west end of County Clare (its most westerly point). The first lighthouse was established here around 1670, it was stone cottage with lantern placed on the roof. The cottage was home for the keeper and his family and had an internal stone stairway leading... more info and photos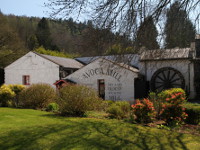 Avoca Mill
East Ireland | County Wicklow
Avoca Handweavers Woollen Mill is located in Avoca Village, on the south east end of County Wicklow (about 10km north west from town of Arklow). It is the oldest working woollen mill and one of the oldest surviving businesses in Ireland, established in 1723. The mill was built on the banks of the Avoca River and used for grinding corn, and also for spinni... more info and photos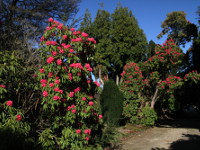 National Botanic Gardens - Kilmacurragh
East Ireland | County Wicklow
National Botanic Gardens - Kilmacurragh are located in near village of Kilbride, just 3,5 km off N11 (turn right opposite Beehive pub) in east County Wicklow. Arboretum is situated on 18th century estate which was the seat of the Acton family for almost three centuries. The most of trees we can admire there, were planted in 19th Century by siblings, Thomas a... more info and photos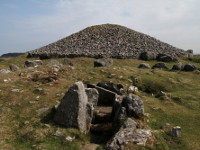 The Loughcrew Passage Tombs
East Ireland | County Meath
Loughcrew Passage Tombs also known as Sliabh na Caillí (Hill of the Witch) are complex of megalithic monuments located about 4km south east from town of Oldcastle in County Meath. This ancient burial grounds, dating between 3500 BC and 3300 BC are spread over few hills. "Cairn L", "Cairn D" and some smaller cairns are situated on the hill of Carnbane West... more info and photos