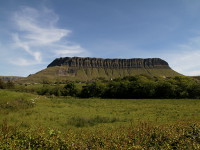 County Sligo
County Sligo (irish:"Shligigh") is located in the north-west of Ireland. This relatively small county has huge variety of landscape as also is very rich in archaeological remains. Much of its scenery was carved out by Ice Age glaciers, creating in the south peaceful valleys and glittering lakes. The northern part is dominated by limestone outcrops of Dartry range, of which Benbulben (also known as "Table Mountain") is the most famous and characteristic because of its long, flattened top. In the west of the county the Ox mountains form a background to the coastal plain. The low-lying coast has many beautiful, sandy beaches and low cliffs.
For those whose interested in Ireland's ancient past, County Sligo has a lot to offer, ranging from single standing stones to ancient burial monuments, castles, monastic sites and holy wells. The Coolrea peninsula is home to very important Neolithic sites, including Knockrea Mountain with Queen Maeves Grave ( Miosgán Meadhbha) on its top and Carrowmore Megalithic Cemetery, of which earliest tombs may have been built 4300 BC, or 6300 years ago. Another significant Neolithic burial complex is Carrowkeel Passage Tomb Cemetery, which is situated in Bricklieve Mountains, 30 km southeast of Sligo Town. There are also many interesting single megalithic tombs scattered around the County Sligo, like for example Creevykeel Court Tomb or Deerpark Court Tomb.
County Sligo is also strongly associated with the one of the greatest Irish poets, Nobel Prize laureate, William Butler Yeats. He chose the village of Drumcliff as his burial place. He died in France in 1939, and was brought back to Ireland in 1948. Since then, his grave attracts thousands of visitors.
About 6.5 km off the Sligo coast there is Inishmurray Island, where you can find remains of early-Christian monastic settlement from the 6th century.
Interesting places in county Sligo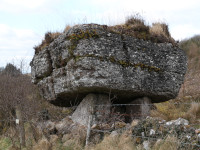 The Labby Rock
Northwest Ireland | County Sligo
The Labby Rock also called Carrickglass Portal Tomb is located on the northeastern end of Lough Arrow in County Sligo, just behind the Cromlech Lodge hotel. This dolmen was built in Neolithic times and is one of the biggest in Ireland, with a capstone weighing approximately 65 tons and dimensions about 5 x 3 x 1.5 meters. It rests on four orthostats of which... more info and photos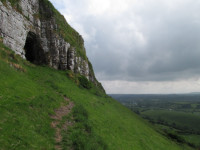 Kesh Caves
Northwest Ireland | County Sligo
The Caves of Keash are situated on the slope of a limestone hill of Keashcorran on the western end of the Bricklieve Mountains in County Sligo, about 6.5 km southeast from the town of Ballymote. This complex of thirteen caves was used as habitation since prehistoric times. Remains of human and animal bones were discovered during excavations, including reinde... more info and photos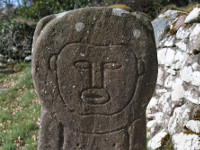 Carrowntemple Grave Slabs
Northwest Ireland | County Sligo
Carrowntemple Grave Slabs are located on the graveyard of ruined medieval church of Kilfree, near Gurteen, in County Sligo. There are twelve replicas of fourteen early Christian grave slabs, which have been found to the south and east of the church within the old graveyard. Most of them are Cross Slabs but some have different patterns as spirals, and abstrac... more info and photos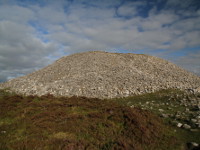 Queen Maeves Grave
Northwest Ireland | County Sligo
Queen Maeve's Grave (irish: Miosgán Meadhbha) is large passage tomb situated on the top of Knocknarea Mountain (327m), dominating the landscape of the Coolera peninsula in County Sligo. Legend says, that is the final resting place of Queen Maeve of Connacht, the ancient warrior queen. This Neolithic monument has approx 55 m in diameter, is 11 m high and w... more info and photos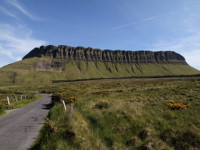 Benbulben
Northwest Ireland | County Sligo
Benbulben (irish: "Binn Ghulbain"), also known as "Table Mountain" is a large rock formation (526 m high), in Dartry Mountains, County Sligo. Its unique shape was formed during the ice age, approximately 320 million years ago, and it's composed mostly of limestone. It also has unique variety of plants, including many Arctic–alpine plants. Benbulben often ... more info and photos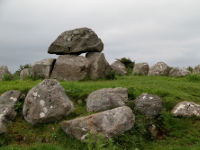 Carrowmore Megalithic Cemetery
Northwest Ireland | County Sligo
Carrowmore Megalithic Cemetery is situated in the center of The Coolera Peninsula (irish:Cuíl Irra) around 6 km southwest from Sligo Town in County Sligo. It's one of the largest and oldest megalithic complex in Europe, where some of the tombs have been erected 4000 BC. There are around 30 stone structures still visible on the site, but there were many more ... more info and photos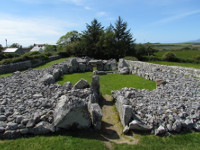 Creevykeel Court Tomb
Northwest Ireland | County Sligo
Creevykeel Court Tomb is the one of the finest court tombs in Ireland. Is located off N15 in village of Cliffony in north County Sligo (between the village of Grange and town of Bundoran). This type of megalithic structures began to appear shortly after 4000 BC. In its present form it is termed a full court tomb but there is evidence that it was once a simpl... more info and photos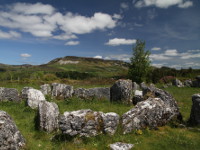 Deerpark Court Tomb
Northwest Ireland | County Sligo
Deerpark Court Tomb, also known as Magheraghanrush, is located in small forest park, just off the road no R278 about 1 km east of the village of Calry in County Sligo (8 km east from Sligo Town). This fine example of a central court tomb was built around 3000 BC. There is a hypothesis that it was once a simpler construction with open, U - shaped forecourt. T... more info and photos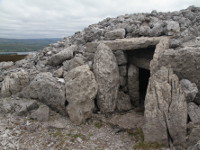 Carrowkeel Passage Tomb Cemetery
Northwest Ireland | County Sligo
Carrowkeel Passage Tomb Cemetery are group of Neolithic monuments (built before 3200 B.C and continued to be used for burial rituals into the Bronze Age), spectacularly situated on the tops of Bricklieve Mountains in County Sligo (30 km southeast of Sligo Town). Traveling through N4 in Dublin direction, take a right turn in the village of Castlebaldwin (s... more info and photos