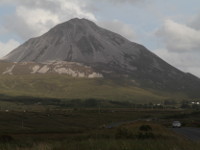 County Donegal
County Donegal is the second largest (also one of the least populated) county situated in the north-west of Ireland and has 320 km (200 mile) of coastline floated by Atlantic Ocean. Deeply indented bays, secluded golden beaches and small villages tucked into sheltered harbours, scenic coastal drives, wild scenery, sheep grazing on the hills, green glens create charm of this region. Staying in the shadow of the famous The Cliffs of Moher, The Slieve League are highest sea cliffs in Ireland and one of highest in Europe. Glenveagh National Park is home for re-introduced Golden Eagle which formerly bred in Ireland and was extirpated in the 18th century. County Donegal has very diverse types of rocks, form a cave-riddled limestone to complicated mixtures of igneous rocks. The Mount Errigal, highest peak in county (751m or 2,464 ft) situated in Derryveagh Mountains is getting very popular hiking destination. Beside the natural beauty and peace of the region you will find also some interesting historic buildings such as 15th century Donegal Castle, 19th century Glenveagh Castle (located on the shores of Lough Beagh in Glenveagh National Park), 19th century Newmills Corn and Flax Mills, Fanad Lighthouse or early medieval stone fort Grianan of Aileach. County Donegal which relatively recently become popular with tourists and offers variety of accommodation, traditional food and music. It also offers many outdoor activities as surfing, diving, kayaking, angling, cycling, hiking or climbling. It is an attractive region for birdwatchers and wildlife enthusiasts.
Interesting places in county Donegal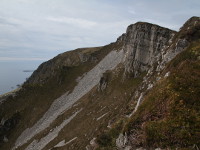 Slieve League
Northwest Ireland | County Donegal
Slieve League (Irish: Sliabh Liag) is a mountain situated on the Atlantic coast of Donegal Bay in County Donegal. It is 601 m high and it has second highest sea cliffs in Ireland, the fifth highest in Europe (Slieve League's cliffs reach almost 3 times higher then famous The Cliffs of Moher in County Clare). There are two paths leading to the summit of Sliev... more info and photos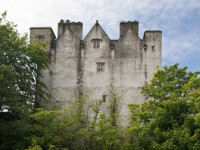 Donegal Castle
Northwest Ireland | County Donegal
Donegal Castle is situated beside the River Eske in centre of Donegal town in County Donegal, in the northwest of Ireland. The first tower house on this site was built by powerful O'Donnell clan in 15th Century. O'Donnell Family burnt and left the castle in 1600, to prevent it being of use by English forces. In 1623, the ruined stronghold was granted to Sir... more info and photos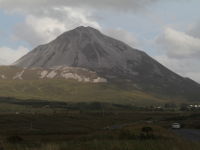 Mount Errigal
Northwest Ireland | County Donegal
Mount Errigal is 751 meters high and is the highest mountain in County Donegal. Its glowing quartzite, cone-shaped peak dominates the landscape and the rest of Derryveagh Mountains. Is also the part of mountain chain, called locally the "Seven Sisters".
Climbing on Errigal is not technically difficult, but it requires good physical condition and be... more info and photos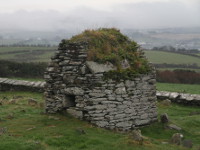 Cooley Cross and Skull House
Northwest Ireland | County Donegal
Cooley Cross and Skull House are located just 1,5 km from Town of Moville towards Cooley Village (west of Moville), on Inishowen Peninsula in County Donegal. It was important site for pagan worship in pre-Christian times, and then transformed into an early Christian settlement (there is no exact datas, who and when founded the monastery, but it's believed, t... more info and photos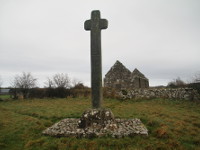 Cloncha Church and High Cross
Northwest Ireland | County Donegal
Cloncha Church and High Cross are located near Culdaff village on Inishowen peninsula in County Donegal. The remains of the Cloncha Church (Church of Ireland) dates from 17th century and was built on the site of an earlier monastery, founded by St Buodan around the 6th century. The lintel over the west door of the church has figure carvings and is derived f... more info and photos
Inishowen Maritime Museum and Planetarium
Northwest Ireland | County Donegal
Inishowen Maritime Museum and Planetarium is located in Greencastle Town in western part of Inishowen peninsula in County Donegal. The museum is placed in the old coastguard station in Greencastle harbour on the shores of the Lough Foyle. The exhibition with its artifacts refer to the deep maritime tradition of Inishowen peninsula. You will find there a lot ... more info and photos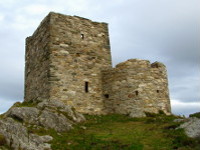 Carrickabraghy Castle
Northwest Ireland | County Donegal
Carrickabraghy Castle is located about 10 km north from the village of Ballyliffin (on the northern tip of Pollan Strand) on Inishowen peninsula in County Donegal. The castle was built in 16th Century, probably by Gearalt O'Doherty who held the lordship of Inishowen at that time. The last Irish lord of this land and the castle was Cahir O'Doherty, who died i... more info and photos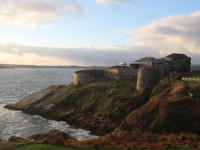 Fort Dunree
Northwest Ireland | County Donegal
Fort Dunree (Irish: An Dún Fhraoigh, what means "Fort of the Heather") is located on rocky promontory on the shores of Lough Swilly, on the west side of the Inishowen peninsula about 12 km north from town of Buncrana in County Donegal. It was erected by British Royal Navy in 1798 to guard against the possible invasion of a French fleet. In 1895 the fort wa... more info and photos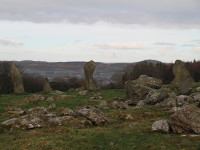 Bocan Stone Circle
Northwest Ireland | County Donegal
Bocan Stone Circle is located on Inishowen Peninsula in County Donegal, approx 2 km from Culdaff Village towards Moville - road R238 (take the first left turn after St Mary's Church in Bocan, and after around 100m you will see it through the field gate on your left side). The stone circle was built between 3000 BC and 1500 BC and had around 30 standing sto... more info and photos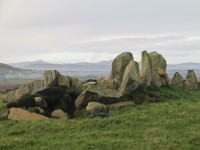 Temple of Deen
Northwest Ireland | County Donegal
Temple of Deen, also known as Druids Altar is the remains of court tomb located approx 2 km from Culdaff Village (towards Moville), on Inishowen Peninsula in County Donegal. It stands on the top of small hill (known as "Black Hill"), on the right hand side of the road, and you can get there on the foot using a dirt road. The exact date of construction is unk... more info and photos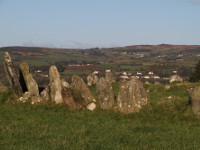 Beltany Stone Circle
Northwest Ireland | County Donegal
Beltany Stone Circle is located approx 3 km south from Raphoe Town, in east part of County Donegal (just beside Department of Agriculture, Food and the Marine, Tops Potato Centre). This megalithic monument probably was built in the later Bronze Age, about 1400 to 800 BC as important centre of ritual practise. The arrangement of stones may also suggest it was... more info and photos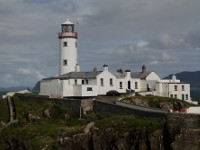 Fanad Lighthouse
Northwest Ireland | County Donegal
Fanad Lighthouse is located near Portsalon on the end of Fanad Peninsula in County Donegal. It was built at the request of Captain Hill of the Royal Navy in Derry. His request was addressed to the Corporation for Preserving and Improving the Port of Dublin after the frigate Saldana was wrecked near the shore of Fanad Head in 1812. He claimed that lighthous... more info and photos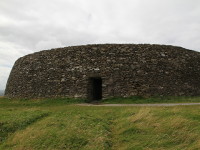 Grianan of Aileach
Northwest Ireland | County Donegal
Grianan of Aileach (irish: Grianán Ailigh) is dry-stone walled ring fort, located on a hilltop over Lough Foyle and Lough Swilly, in county Donegal. It was probably built in the 8th century as the royal citadel of the northern Uí Néill, on the site of prehistoric burial mound, possibly from the Neolithic period (about 3000 BC). Ring fort rises to high of... more info and photos